Columbia Symposium Showcases Cutting-edge AI Work
Inaugural CAIT symposium brings together industry and academics to explore the future of artificial intelligence
November 08, 2021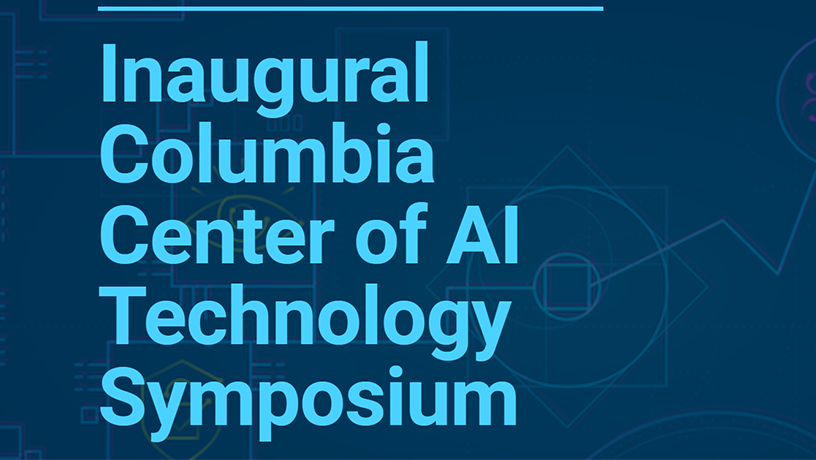 Wondering what's next in artificial intelligence? The inaugural Columbia Center of AI Technology (CAIT) Symposium has you covered.
The Oct. 18 event featured some of the brightest minds in AI research, bringing together Columbia engineers and industry experts to share their insights on what's next for AI technology.
CAIT, designed to push the frontiers of artificial intelligence research, was founded in collaboration with Amazon in 2020. The center's mission is to better society through the development and implementation of advanced AI technologies, striving towards a more connected, creative, secure, and equitable future.
Spyros Matsoukas, a distinguished scientist with Amazon Alexa AI, kicked off the symposium with a presentation on the history of Alexa's development before offering a glimpse into what's just over the horizon for Amazon's innovative AI devices. Angeliki Metallinou, a senior applied science manager at Amazon Alexa AI, followed up with a deep dive into how Alexa Conversations uses deep-learning technology to understand human dialogue.
Following the speakers from Amazon, the symposium transitioned into Spark Talks by distinguished Columbia Engineering faculty. Elias Bareinboim, associate professor of computer science, presented his research on the causal-neural connection and using neural networks to perform causal reasoning. Rachel Cummings, assistant professor of industrial engineering and operations research, showcased her work on differential privacy, describing how AI technology developers can keep users free from harm while enabling meaningful learning. Her discussion addressed the privacy concerns of users of Alexa and other AI devices and explored the ways in which AI technology can improve and expand without jeopardizing users' private information.
Brian A. Smith, assistant professor of computer science and director of the Columbia Computer-Enabled Abilities Lab, presented groundbreaking research on AI and new abilities; namely, the development of immersive video game technology for blind players. Smith said his goal is to grant visually impaired people the ability to perceive spatial information using computers as a tool. Smith's lab is striving to give blind players the same engaging experience as sighted players using assistive technology to replicate the full user experience of the game, rather than just narrating the visual components. His technology has already been tested by visually impaired players who reported being able to produce higher-quality mental maps of their virtual environment than while using preexisting technology.
Shuran Song, assistant professor of computer science, discussed her research on Active Scene Understanding with Robot Interactions, describing how human beings use certain actions (e.g. picking up a shirt from a pile to identify it or pushing a box to determine its weight before trying to lift it) to understand our surroundings and act accordingly. Song's goal is to create a robot that can similarly interact with objects to learn their physical properties, a kind of"self-supervised" learning technology.
After the Spark Talks, Interim Dean Shih-Fu Chang facilitated a thought-provoking and inspiring Fireside Chat with three accomplished panelists: Parag R. Chitnis, associate director for programs and acting associate director for operations of the USDA; Erwin Gianchandani, senior advisor for Translation, Innovation, and Partnerships for the NSF; and Vice President of Amazon Alexa AI, Prem Natarajan. All shared their expert opinions on approaching AI technology's challenges and long-term goals in the field.
Dean Chang led the panelists in an engaging discussion on multi-sector partnership and how CAIT exemplifies an impactful collaborative approach to AI and computational technology.
"Different perspectives can inspire and motivate fundamental research," Chang said after hearing from the panel. He further described how partnerships are "not a one-time effort," and should be "transformative, sustainable, and have a long-term impact."
Chitnis described collaborative efforts in his work at the USDA, while Gianchandani detailed his approaches to the challenges of collaboration. Natarajan tied the conversation together by bringing it back to Alexa applications. Chang concluded the discussion with the topic of successful models of direct and catalyzed partnerships, like CAIT, and how to "instill this new way of thinking and perspective into different sectors."